NB: the emergency phone number (police, ambulance, fire department) in the Netherlands is 112. For non-life threatening emergencies, call 0900 8844. For any questions about first aid, hospitals, dentists etc., find a volunteer or committee member – you can recognise us by our ASE-buttons.
9292OV
There is a special public transport app which you can use in the Netherlands called 9292OV. It allows the settings to change to English, but make sure you refresh the app agter doing that to make the changes go through. The app will help you move around in the Netherlands, although in Leiden it is really easier to walk.
Schiphol – Leiden
The easiest way to get to Leiden from Schiphol Airport is by train. The intercity to Leiden leaves from Schiphol every 15 minutes from track 5 or 6. You can buy your ticket at the yellow ticket machines. A single ticket costs €6,20, make sure you sit in second class.
Leiden is very small, all distances can be covered by foot.
Opening session 21 August: Rijksmuseum van Oudheden (National Museum of Antiquities)
Address: Rapenburg 28, 2311 EW Leiden
Congress venue 22-24 August: Lipsius Building
Address: Cleveringaplaats 1, 2311 BD Leiden
The Faculty of Humanities is a 10-minute walk from Leiden Central Station.
Alternatively you could take bus 1 from the train station and et off at 'Paterstraat', or bus 5 or 6 and get off at 'Noordeinde'. For public transport planning see ns.nl (for trains) and 9292.nl (for all public transport).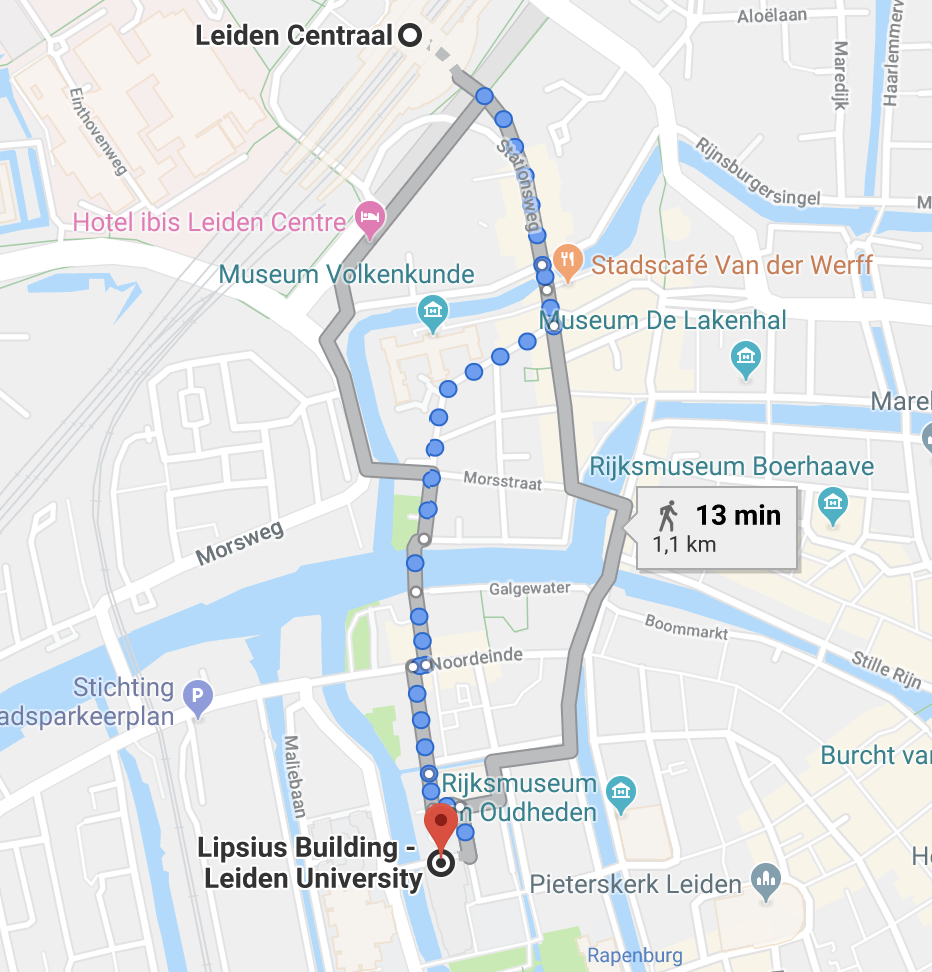 If you come by car, please do not use the visiting address for your car navigation: the Cleveringaplaats has no streetlevel parking. The most convenient car parks are located at the Haagweg(€ 2 p/h) and the Maliebaan (street level parking, €2 p/h).
From the Haagweg car park you can walk to the University buildings at the Witte Singel in about 6 minutes. If you need to go to the city centre, a free bus will take you there from the Haagweg parking.
Congress dinner 22 August: Hortus Botanicus
Address: Rapenburg 37, 2311 GJ Leiden
Netherlands Institute for the Near East (NINO library)
Address: Witte Singel 25, 2311 BG Leiden